I like working with data, so I like any device that gives me insight into various running metrics. I recently purchased a Garmin Forerunner 945 Bundle with the HRM-Tri and HRM-Swim heart rate chest straps. Due to the pandemic, I have not been able to test out the HRM-Swim yet, but I have been able to use the HRM-Tri on almost every run. The HRM-Tri gives the same running analysis as the Garmin Dynamics Running pod with the added benefit of being a heart rate monitor as well.

The first metric that the Forerunner 945 gives is Training Effect. This category ranks the aerobic and anaerobic impact of your workout on a 5-point scale. This metric has helped me realize that I should incorporate more low intensity workouts into my training because most of my runs are categorized as either threshold or tempo. I only see anaerobic increase when I am doing a very hard effort such as interval training or a race.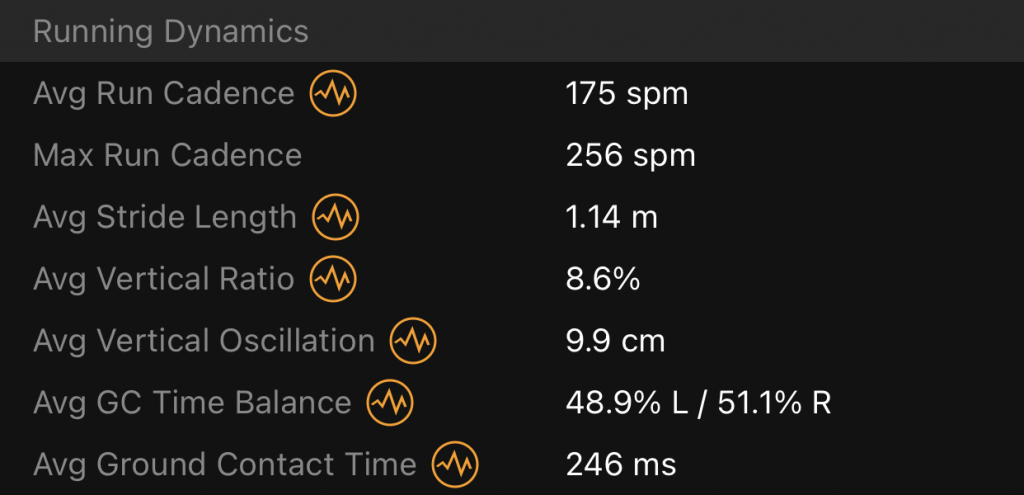 The next set of data, and probably the one that I check the most, is the Running Dynamics. Running Dynamics provides information on your run cadence, stride length, vertical oscillation and ground contact. I have noticed that or the most part my cadence is consistent at about 175 strides per minute (spm). There is some debate as to what the optimal cadence is, but I am inclined to think that what ever cadence you feel comfortable running is the cadence that you should go with. I do not pay a whole lot of attention to stride length, vertical ratio, or vertical oscillation. It does make sense that as my pace increases, my stride length goes up. When I set my 10k personal best on September 28th, my average cadence was 178 spm with an average stride length of 1.22 meters. I do not know what specific impacts that vertical oscillation and vertical ratio have on running performance but I do know that a lower vertical oscillation rate and a lower vertical oscillation ratio are better than higher rates for these metrics. Average ground contact time balance is another metric that I pay attention to. I have noticed that when I am training harder or running more often, my ground contact time balance gets skewed slightly to the right. In a perfect world, ground contact balance would be 50-50 but as I become more fatigued, my right leg takes over. When I run after taking a few days off to rest, my ground contact balance will go back to being close to 50-50. I love my new watch and the insight it gives me into my running performance. There are a lot more features that this watch has and I will cover them in a later post.
Not every run is easy. In the words of Greg LeMond, "It never gets easier; you just go faster." Today was another run that was not really all that pretty. Training is going well so far but I have been a little sore the past few days. Life is all about perspective. It was not that long ago that running every day was not possible. Running 10 miles would have made walking difficult the next day. In 2019, I ran 1,079 miles. To date, I have run 1,342 miles with a full month to go. I was also quite surprised in October when I ran 116 miles at an average pace of 7:57 per mile. This was the first time ever that my average pace for a month was below 8 minutes per mile. I started this year thinking that I would try to hit 1,500 miles. It does not look like I will hit that goal unless I run over 150 miles in December. It is not impossible, but my training plan does not have me running that many miles next month. We will see how it I am feeling. Winter is coming and I am not entirely a fan of running in cold weather. My ideal temperature is between 40 and 50 degrees.
All things considered this run went well. I like running this route. It is a nice change of scenery from running on the bike path and the streets around Janesville. Only once have I had an issue with oncoming traffic not giving me a wide enough berth while passing. The biggest difference that I notice while running this route is that there are fewer instances of being stopped by traffic. There are many places on the bike path that cross busy intersections where I must wait for a walk signal before crossing the street. I am thinking I will be incorporating more rural running into my training regimen in the future.